After an extensive community-based facility review process to identify facility needs, the Morton School District has identified projects to make buildings safer, better for learning, and updated to last longer. The school board is expected to consider a possible bond measure for 2022 that would address these facility issues. They want to know community priorities before making any decisions.
Projects under consideration include
Replacing the current Morton elementary school by constructing an elementary wing with separate entrances and student areas at the Jr/Sr High School building.

Constructing a fitness addition at the Jr/Sr High School gym for PE classes, athletics and community access.

Constructing a stadium at the current track and football field.

Constructing a learning skills/life skills classroom.

Improving ventilation and electrical access to the metals shop/vocational studies area to expand access to students.

Constructing a new bus garage to replace the existing building that is unsafe and needs repair.
Architectural review of facilities in the district
Facilities Committee and Planning Process
This is not a haphazard plan. The projects were recommended after a comprehensive assessment of facilities in the district. See the assessment reports above.
The process began in 2015 when the district prepared for the 2016 bond that did not pass. It looked at doing work just at the ES, a combination of both campuses, or just the Jr/Sr campus and it was determined then that the most cost-efficient plan was the combined facility. Two firms the district has worked with have supported this plan, the one from 2016 bond and our current consultant/architects.
A community-based facilities committee made recommendations for the projects in the plan and reaffirmed them in November.
Site and Floor Plans for Elementary School Wing at Jr/Sr High School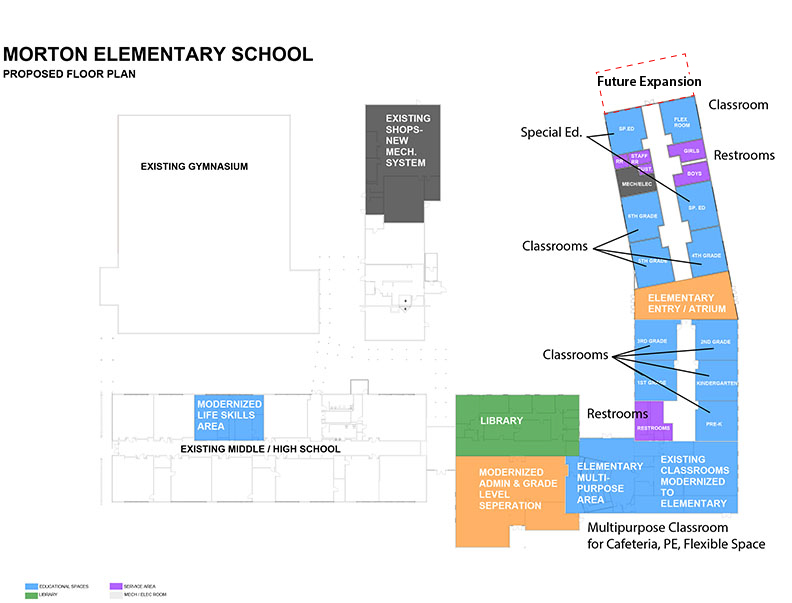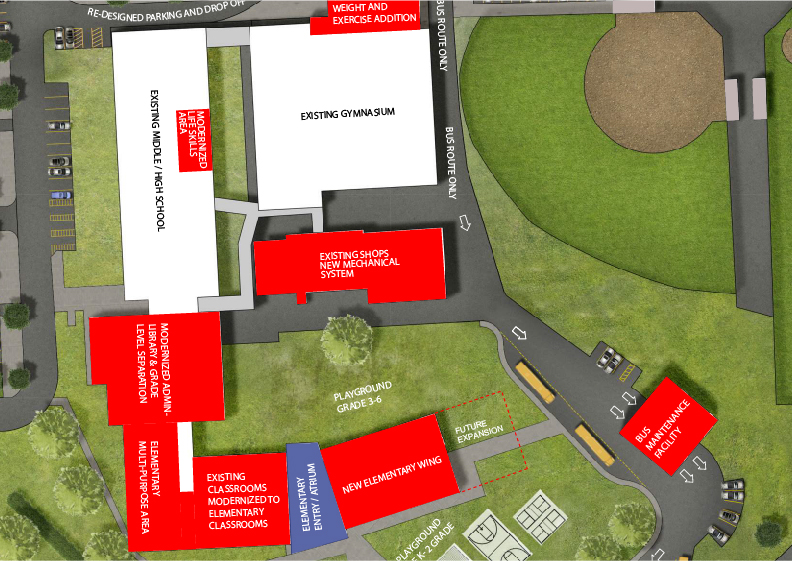 Frequently Asked Questions
What is a Bond?


Bonds pay for new construction or renovations to existing buildings.

Bonds require a 60 percent majority approval.

Bonds can attract School Construction Assistance Program (SCAP) monies from the state, which can be used for new construction and modernization of facilities.

When was the last time Morton voters approved a facility bond?


Voters approved a bond in 1997 for projects including the new gym at Morton Elementary School. This bond has expired. The district has no outstanding bonds.


What would the proposed bond measure pay for?


The School Board has not developed a final bond proposal yet. They will discuss it at a workshop in November for a possible voter later that month.


Possible bond projects include:

An addition to the current secondary building to include a new wing for the elementary school. The two schools will have separate entrances and operate as separate schools. A new play area for the elementary students and site work, including a parent dropoff lane and additional parking, is included.

A reconstruction of the bus facility to meet current safety standards. The existing building is not safe for staff. The new building would be located adjacent to the secondary school.

Making facility improvements to the metals shop/vocational building including a new roof, new ventilation and upgrades to the electrical systems.

Improvements to the gym that include a new roof and a weight room addition that would be accessible for community use.

What are the goals of a potential bond measure?


Efficiency: combining grades into a renovated expanded building would improve operating and instructional efficiency and expand opportunities for students.

Improvements to current buildings to protect our investments in school facilities. Bond-funded repair and replacement projects generally cost more than the district can afford in the general fund budget, but they are important for prolonging the life of the buildings and protecting the investments our community has made in those facilities. Updates such as HVAC, plumbing and electrical improvements would reduce operating costs by making systems more energy efficient.

Safety: The bus garage is unsafe and would likely be condemned if other options were available. This building was intended to be a temporary facility when it was acquired in the 1980s due to the collapse of the previous building. The district has outgrown this space, it is not a sound building, and the traffic from the neighboring company's operations creates concerns about hazardous entry and exit points for buses.

Equitable access to learning opportunities and school resources: Improved learning spaces for today's educational requirements; improving access to facilities by adding necessary ADA features, developing a community-accessible weight room for students and community members.

If a new elementary school was added to the jr./sr. high school, how would you separate the students?


The new elementary wing would have its own dedicated entrance, school bus and parent drop-off areas and be self- contained. Our goal is to provide an elementary school that meets the needs for today's modern educational requirements, improves efficiency and safety, is cost-effective and includes space for some future growth. There were be efficiencies in only maintaining and operating one building.


Would there be a playground with the new elementary wing?

Yes. Two playgrounds are planned with age appropriate equipment for the older and the younger kids.


What would you do with the old Morton Elementary School Building?


Morton Elementary School was built in the 1940s. The costs of renovating it for school use are higher than building a new elementary wing at the jr./sr. high school. The building does not meet current safety or energy code requirements, which would be required in any renovation plan. It also contains asbestos in the ceilings, floors and insulation, which would be costly to remove during renovation. Students would have to be relocated during a modernization of this building.


Is Morton School District growing?


Yes. This fall, enrollment was up about 100 students more than we anticipated.


What is the plan for the weight room?


A possible project would be to construct space near the gym for an expanded weight room that would serve PE classes and athletic programs. The current weight room is much too small for PE classes, and the two-story space does not allow staff supervision of all students. Building new space would make improvements for students and allow regulated community access.


What is the projected timeline for placing a ballot measure on the November ballot?


If the School Board decides to send a bond measure to voters for the Feb. 22, 2022, election, they will vote on the proposal in late November.


How much will the proposed bond measure cost? Will it increase my property taxes?


The district is working with bond finance experts to determine estimated costs. The goal is to make necessary improvements for educational programs, safety and extending the life of existing school facilities while balancing costs to taxpayers in the district. We will share the estimated rate in the next few weeks. Rates could decrease if the tax base expands due to new residents or higher assessments.


What types of property tax exemptions are available for seniors and disabled citizens?


You may qualify for a property tax exemption if you are a property owner who is 61 years or older, or are retired due to a disability. You can learn more by calling the Lewis County Assessor's Office at 360-740-1392.


How can I register to vote?


Go to www.vote.wa.gov and register to vote no later than Jan. 31, 2022.