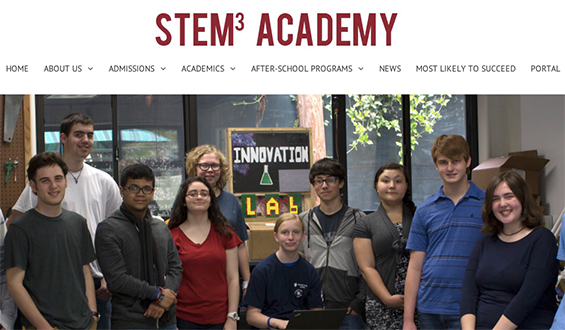 STEM School Proves Good Fit for Learning Disabled Students
Carlie Womack
Wednesday, April 13, 2016
A Los Angeles-based science, technology, engineering and math school is gaining attention nationwide for its efforts to attract talented students with learning disorders.
STEM3 Academy is the newest member of The Help Group, a Los Angeles-based non-profit organization focused on children and young adults diagnosed with ADHD, developmental delays, abuse, learning disabilities, autism, and emotional problems. It is a pioneering project open for tech-driven, bright grade six-twelve students with learning disabilities, reads its official website.
The aim of the teaching staff is to motivate students to learn not by just listening to the teacher but by doing. The school implements the "flipped classroom model" to boost students' potential, meaning that the time in school is used to work on different projects and homework assignments while time at home is used to review the next day's lessons.
STEM3 Academy's students have access to a modern lab equipped with 3-D printer tools, a CNC machine, electronics and various other resources to help students apply knowledge to real-world scenarios. The school also offers classes in robotics, entrepreneurship, software development and programming, notes Kathryn Blackhurst of The Blaze. The learning process is based on group work to improve students' social skills and interaction.
STEM3′s curriculum is not limited to subjects like math and science, writes Parija Kavilanz of the CNN. It also includes arts, English, languages and more. Currently, the school has 60 students, and interest is rising. More than one-third of the students are placed by a district program which covers the tuition fee, which amounts to about $35,000.
STEM3 Academy's Director Crasnow talked about the negative statistics regarding the post high school achievements of students with learning disorders. She said that between 80%-90% of them were either unemployed or underemployed. One of the aims of her school was to change those odds, she told CNN:
"STEM3 Academy's mission is to connect the particular strengths of students with special needs with an innovative and rigorous STEM curriculum that positions students for future success."
Director Crasnow confirmed the Academy is supposed to become a K-12 school by the end of the year.
Parents of current students describe the program as "outstanding" and "life-changing".
A survey conducted among 11,000 students nationwide found that young people with autism spectrum disorder chose STEM majors in college more frequently than their peers – 34 percent versus 23 percent, writes Cathaleen Chen of The Christian Science Monitor. The same study also concluded that they are much less likely to attend college than their peers, which raises questions about boosting STEM education among these students.
In 2010, the Obama administration called for the opening of 1,000 new STEM schools by 2020 as a response to the country's low rankings in math and science among the industrialized world. The opinions on whether the initiative is on track to be successful have been mixed.
Another recent study analyzed the performance of 70,000 students enrolled in public STEM schools in New York City. It proved that Hispanics, blacks, and females that are usually underrepresented in STEM subjects did much better in STEM-based high schools than non-STEM schools.